---
The historic Town of Easton MA is a beautiful town located in northern Bristol County. The town is ideally located equidistant to Boston, Providence, and Cape Cod.
The Unmistakable Influence Of The Ames Family
If there's one thing you'll remember about Easton when you visit, it's the mark the Ames Family left on the town. The beautiful architecture in the Downtown Historic District is all the evidence you'll need.
Examples include: Oakes Ames Memorial Hall, Ames Free Library, the remodeled Ames Shovel Works, the Governor Ames Estate, Easton Town Hall (once an Ames residence), Borderland State Park, Langwater Farm, the administration building at Stonehill College, and the Blanche A. Ames Elementary School.
Shovel Town
In the mid 1800's, the Ames Shovel Works was one of the largest and most respected companies in the United States. Ames Shovel Works was the main manufacturer of shovels used in the construction of the First Transcontinental Railroad. Easton is referred to as "Shovel Town" to this day.
Easton is an active community with a number of award winning restaurants. The town also boasts an award winning library. The Ames Free Library has won the "Best Small Library in America" two times (2007 and 2016).
Looking for open space? The town boasts plenty of protected open spaces.
How about great schools? Easton has a highly rated school system with strong athletic and music programs.
---
Easton is a great place to live. Check out homes for sale in Easton MA.
---
Easton MA History
Officially incorporated in 1725, Easton was originally a part of the North Taunton Territory until 1713. Originally known as the "East End" of Taunton, the name was shortened over time to just "Easton".
Easton has a population of just over 25,000 (as of 2020), has an area of 29.2 square miles, and is in Bristol County.
Easton is home to many historic buildings. Many are still in use by the community today. Two buildings, Oakes Ames Memorial Hall and Ames Free Library, were built in the late 1800's by world renowned architect H.H. Richardson.
Richardson is best known for the creation of the Richardsonian Romanesque architectural style. His most famous work is the Trinity Church in Boston. It's not uncommon to see architectural students from Boston sketching these beautiful buildings.
Another well known landmark in Easton is "The Rockery". It was designed by Frederick Law Olmsted. Olmsted is most famous for his work co-designing Central Park in New York City and Golden Gate Park in San Francisco. The Rockery was built as a war memorial to the citizens of Easton that lost their lives in the American Civil War.
---
Easton MA Government
Legislation in Easton is handled via Town Meeting, which is a gathering of all registered voters in town.
Town Meeting decides three major things:
Salaries for the elected officials
Appropriation of money to run the town
Creation and amendment of the town's local statutes, called by-laws
A 5-person Select Board governs Easton. Its members serve 3-year terms. The Select Board hires a Town Administrator to handle the day-to-day operation of the town.
---
Maybe a condo is more your speed. Checkout Easton MA Condos for sale.
---
Easton MA School System
The Town of Easton has a great school system.
There are 3 PreK-2 schools: Center School, Moreau Hall, and Parkview School. These 3 schools will be replaced by the Blanche A. Ames Elementary school. The Richardson Olmsted school hosts 3rd – 5th grades. Easton Middle School encompasses 6th-8th grades and Oliver Ames High School covers 9th-12th grades.
Easton MA Elementary Schools
There are currently 3 PreK-2 schools: Center School, which serves the center and south of town; Moreau Hall, which serves the eastern side of town; and Parkview School, which serves the north of town. Under construction at the time of this writing, the Blanche A. Ames Elementary School will replace all of the nearly 60 year old PreK-2 schools. This new school will centralize all education facilities in Easton.
The Olmstead-Richardson School houses grades 3-5. This school was originally two separate schools in one building. This was due to state funding laws at the time the school was built. HH Richardson School served the south side of Easton. FL Olmstead School served the north side of Easton.
Easton MA Middle School
Easton Middle School rates as one of the top 30% of schools in Massachusetts. There are 884 students attending as of the 2021-22 school year. Students rank in the top 30% in MA for their overall testing rank and Reading Proficiency. Students rank in the top 20% for Math Proficiency.
Easton MA High School
Oliver Ames High School ranks as one of the top 20% of schools in Massachusetts. The school has 1,189 students attending as of the 2021-22 school year. Its 98% graduation rate ranks it in the top 5% of all high schools in Massachusetts. OAHS ranks in the top 20% for math proficiency, reading proficiency, and in overall testing rank. (According to publicschoolreview.com)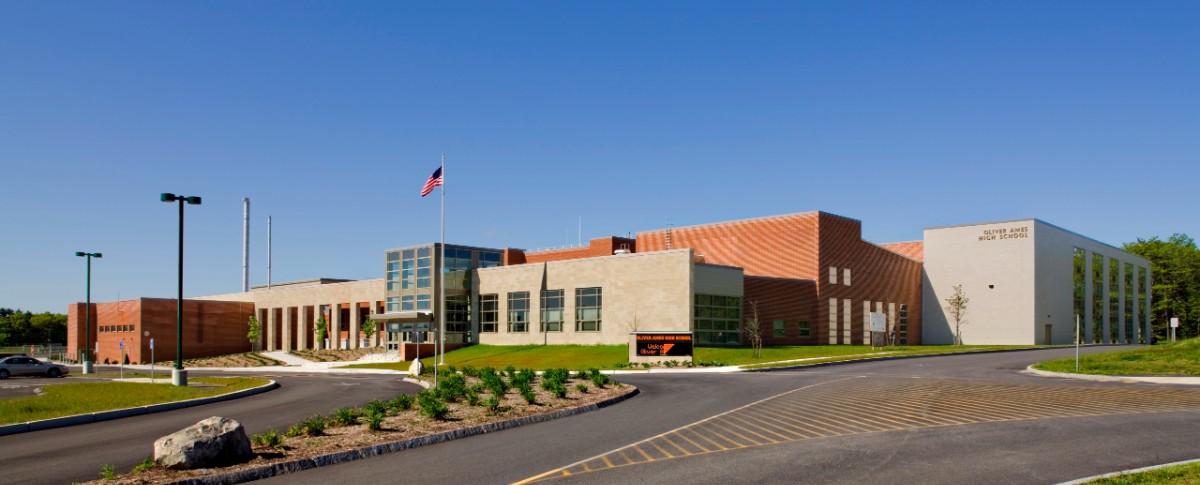 Vocational School
High school students in Easton can choose to apply to attend Southeastern Regional Vocational Technical High School.
The high school offers 20 career majors to students from Brockton, East Bridgewater, Easton, Foxboro, Mansfield, Norton, Sharon, Stoughton and West Bridgewater.
The Southeastern Technical Institute offers day programs in Practical Nursing, Medical Assisting, and Dental Assisting. Evening programs include Computer Classes, Driver's Education, Enrichment Classes, Electrical, Plumbing, HVAC, Health Claims, Medical Classes, Phlebotomy, Practical Nurse, Cosmetology, Culinary Arts and other trade & technical classes.
Easton MA Sports
Oliver Ames High School (OAHS) athletic teams compete in the ultra-competitive Hockamock League.
The girls basketball team has won the MIAA Division 2 State Championship three times since 2000 (2006, 2010, and 2022) and boasts 2 All-Americans among its alumni.
The girls soccer team plays in Division 1 after winning multiple Division 2 state championships.
The boys soccer team won its first Division 2 championship in 2015.
The OAHS cross country program has a history of success. The boys team has won 3 outright state championships and 4 state Class C championships. The girls team has won a state Class C championship and 11 conference championships since 2000. Running programs actually start in the elementary schools.
Arts
Music and arts are very competitive at Oliver Ames High School. Musical training is first available in the 3rd grade and the programs have a high level of participation. The Oliver Ames Tiger Marching Band is on of the top programs in Massachusetts. They represented the state at the 2012 Memorial Day parade in Washington D.C. Other programs include Show Choir, Orchestra, Chamber Orchestra, and Jazz Ensemble.
---
Considering building your own custom home? Check out land for sale in Easton MA.
---
Things to do in Easton MA
The Town of Easton MA sits equidistant between Boston, Providence, and Cape Cod. This means easy access to both major cities. 2 MBTA stations are located nearby in Mansfield and Stoughton. They offer easy access to both Boston and Providence.
The South Coast Rail Project is an ongoing public works program to update rail transportation to the South Coast. The project updates the abandoned rail line that runs through Easton. The plan will add two stations in Easton: one in downtown Easton (Easton Village Station) and one behind the Roche Brothers Plaza bordering Stoughton (North Easton Station).
Easton MA Restaurants
Easton has some amazing, award winning restaurants. There are plenty of spots to grab breakfast, lunch, or dinner.
The Farmers Daughter
The Farmers Daughter offers a great breakfast and lunch experience with locally sourced ingredients from nearby farms, such as Langwater Farm.
The Farmer's Daughter is best known for their dishes like their Brioche French Toast and the Hashbrown Waffle. They have been making these dishes by hand daily since they opened in 2013.
---
Maguire's
Maguire's is another highly rated local hotspot. They offer non-traditional upscale pub style dining. Be sure to try the "Honey Hots", locally legendary chicken tenders and wings, or the Lobster Mac & Cheese.
Maguire's has been operating since the mid-1990s with staff that have been there just as long. Walking into Maguire's is like walking into a family's kitchen, if that family kitchen cooked over 1000 pounds of chicken wings a week!
---
Corfinio
Corfinio is a local high-end Italian restaurant. It's regarded as one of the best Italian restaurants south of Boston. They are well known for their wood fired stove and fresh made pastas.
They have a beautiful dining room with an open kitchen. You can sip a glass of wine, watch the chefs prepare your meal, and throw it in their wood fired stove.
Open Space in Easton
Easton MA has a number of public parks dotted around town that offer space for a range of activities.
The Governor Ames Estate
The Governor Ames Estate is a public park near downtown Easton that covers 36 acres. The park offers walking paths, open fields, and a couple of small ponds. Sledding is a favorite winter pastime at the Ames Estate. There's a fantastic hill behind the main structure.
The Natural Resources Trust (NRT) Sheep Pasture
The Natural Resources Trust of Easton's Sheep Pasture, more locally known as NRT, or just Sheep Pasture, is located near downtown Easton and spans 154 acres. The NRT runs a number of hands-on learning programs for the local school system throughout the year. In addition, children and young adults can participate in NRT's summer programs such as Sheep Pasture Nature Camp and Leadership Youth. The NRT's Sheep Pasture is also the site of Easton's annual Fall Harvest Festival.
Borderland State Park
Borderland State Park spans both Easton and Sharon and encompasses 1,843 acres. It is a treasure trove of activates from walking and biking trails of varying difficulty, to an 18 hole disc golf course. Borderland is a very popular horse riding park so expect to see a few horses trotting around the trails. The New England Mountain Biking Association created and maintains a number of mountain biking trails ranging from nice family bike rides to more challenging trails for experienced riders.
Blanche Ames and her husband Oakes Ames originally owned the land. Oakes served as an instructor at Harvard University and cultivated orchids. Blanche Ames was a prominent political activist and advocated for women's rights. She was also an accomplished inventor. Blanche created things ranging from a hexagonal log cutter to anti-aircraft artillery. She was also a successful artist and designer and designed the mansion that still sits in the center of Borderland today.