Choosing a paint color is probably one of the most fun yet crucial parts of decorating your space. The colors you choose will set the tone for the entire look and feel you're going for. It can be fun to look at paint samples on the internet. However, it can be hard to visualize how those colors combine and fit into your own home.
This week's blog post features the hottest new paint trends for 2021, along with real-life, visual examples of exactly how you can enjoy these new colors in the interior and exterior of your home.
Blissful Blue by Valspar
This calming "Blissful Blue" will help cheer you up as you continue to make your home the center of your world.
If you have patio furniture, take this blue and cover your favorite chair in it. Pair it with a yellow pillow, and now your favorite chair doubles as clouds and sunshine for you to daydream on.
Enjoy it inside by painting an accent wall. Bonus! It makes for a great zoom background.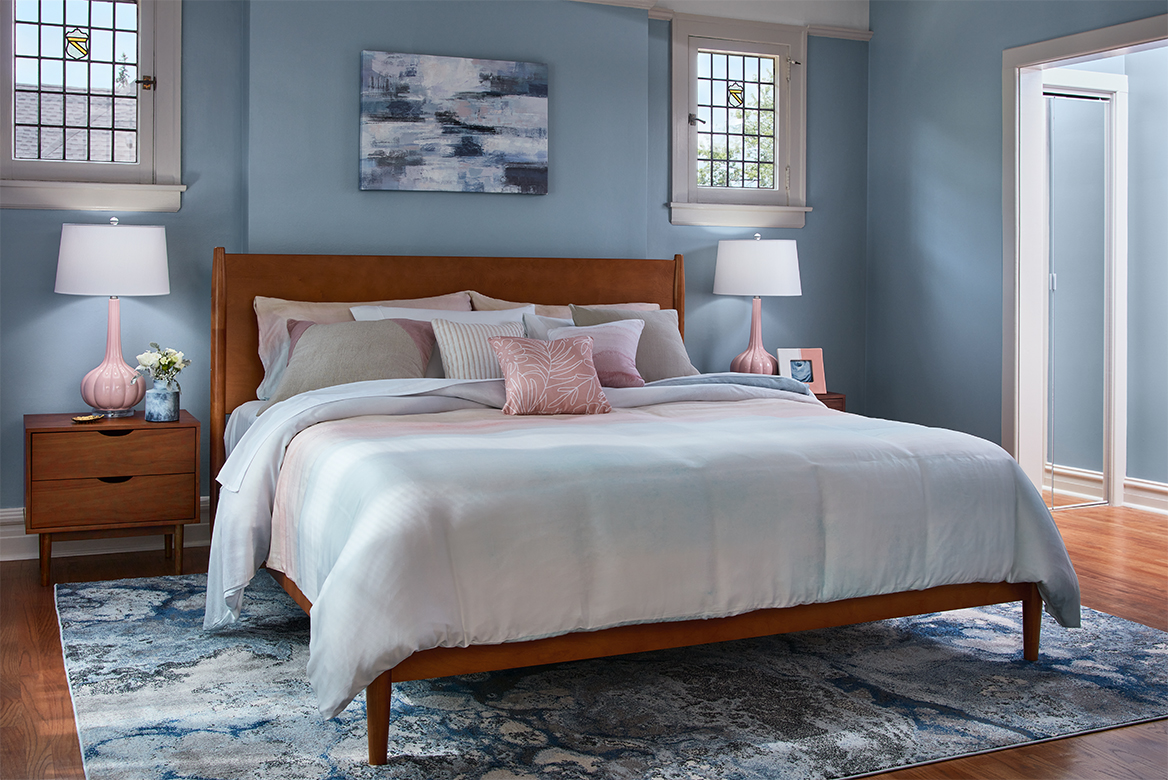 Sap Green by Farrow & Ball
Farrow & Ball's "Sap Green" is a new color indirect reflection of their connection to nature's many shades. This shade from Farrow & Ball was created in collaboration with the Natural History Museum. "A true earthy green," which can be used to create the feel of a lived-in space or for smaller home projects, can wrap the atmosphere with a much richer feel.
If exterior projects are your thing, Sap Green can be used to give that pop of color your front door needs, perfectly complimenting your surrounding landscape. On the flip side, this green can be used to revitalize a guest bathroom. Consider a bathroom cabinet paint upgrade or a full bathroom wall transformation.
Aegean Teal by Benjamin Moore
"Aegean Teal" by Benjamin Moore is a magnificent blend of blue-green and gray. It's perfect for incorporating a touch of color that's not too bold but makes a statement. Don't let the name "teal" fool you; the added touch of gray gives this new shade a calming quality that will bring peace into your home. When used as an accent color on trim or cabinetry, Aegean Teal adds elegance to any area and goes well with whites and creams. If you have built-in cabinets that need refreshing, this shade will make them pop! Consider choosing paint color that add accent outside if you have shutters. This color will contrast beautifully against a white or stone exterior.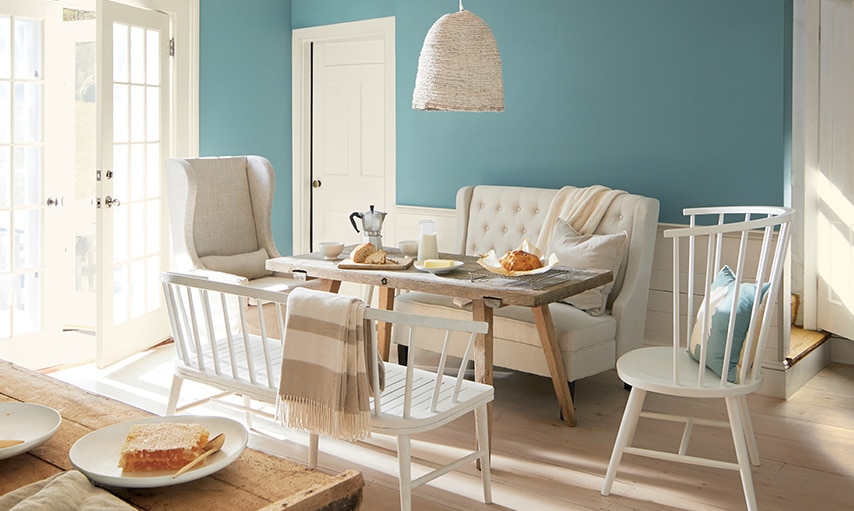 Tanner's Brown by Farrow & Ball
"Tanner's Brown" by Farrow & Ball comes from the craft of tanning hides and skins to make leather. In a low-lit room, this color can look like a soft black, but outside and in homes with bright lighting, In Fact, Tanner's Brown will appear browner, making this shade a versatile choice to transform any area of your house.
Tanner's Brown would look beautiful as an accent wall in an office or living area to deepen your space, giving it a more modern feel. And, you could also consider giving your patio furniture a refresh by adding this rich brown shade to your outdoor chairs.
Urbane Bronze by Sherwin-Williams
If you're looking for a color rooted in nature that captures simple sophistication from every angle, then the Sherwin-Williams 2021 Color of the Year, "Urbane Bronze," is for you! This new neutral is powerful but modest, and it looks great with wood, stone, and mixed metals. For the main color or accent, You can use Urbane Bronze.
Use warm color as an accent wall to highlight window trimmings or to liven up the look of your fireplace mantel. Urbane Bronze isn't just for interior use. At the same time, it looks incredibly sharp as an accent for front doors and exterior trim when paired with whites. The versatility of Sherwin-Williams Urbane Bronze is unrivaled, and it was named Color of the Year for 2021.
Canyon Dusk by Behr
Behr's 2021 Color of the Year, "Canyon Dusk," brings warm desert tones to life. This tan-pink hue evokes thoughts of closeness, comfort, and anchoring. It's been used to create a soothing atmosphere in the bathroom, to enhance social contact in the dining room, and even to liven up a bare wall in your home. Canyon Dusk looks great with natural colors like browns, greens, blues, and other neutrals. Color goes nicely with wood tones and white surfaces.
Passionate of HGTV Home by Sherwin-Williams
"Passionate" is a rich, saturated red that blends modern style and traditional charm. The daring tone joins nine nature-inspired shades in HGTV Home's Delightful Daring Color Collection which can be discovered solely at Lowe's. Passionate's profound red creates a lively backdrop for neutral furniture and nature-inspired tones.
Choosing this paint color in your social spaces like your living room and dining room to create an invigorating feeling. Besides, you can also go bold with this deep red on the exterior of your home by choosing this paint color to your house numbers. Warm and legible for visitors looking to pull into your driveway!
Ultimate Gray and Illuminating by Pantone
For example, PANTONE 17-5104 Ultimate Gray + PANTONE 13-0647 Illuminating are "a marriage of color giving a sense of power and hopefulness that is both enduring and inspiring," according to PANTONE.
These two very different colors symbolize the harmony of partnership. "Illuminating" with its hopeful, optimistic hue and "Ultimate Gray" with the reassuring resilience of natural elements.

Summary
Article Name
2021 Paint Trends and How to Create Them
Description
Featuring the hottest new paint trends for 2021 along with real-life, visual examples of exactly how you can enjoy these new colors.
Author